This June we celebrated the first five years of our existence. In late spring 2014 the Czech Dutch Chamber of Commerce (CDCC) was established by Vladimira van Aarle and Katerina Veliskova, as an independent, not-for-profit organization to support Czech businesses in the Netherlands and Dutch ones in the Czech Republic.
What was the reason for that? "There was no networking platform for Czech entrepreneurs and business people in the Netherlands enabling them to connect with each other, support and learn one from another. Especially when doing business abroad, it is very important to build your network that you can rely on. We missed that and that is why we simply decided to create one," commented Vladimira van Aarle, Chairperson of the CDCC.
Our mission
The mission of the CDCC is to support our members in successfully developing and expanding their business in the Netherlands or with Dutch, Czech and Slovak partners, and to contribute to a positive image of the Czech and Slovak Republics in the Netherlands. We do that through creating a networking platform, hosting numerous social, business and sport events, connected people with each other and offering other support and consultancy services.
5, 30 and 55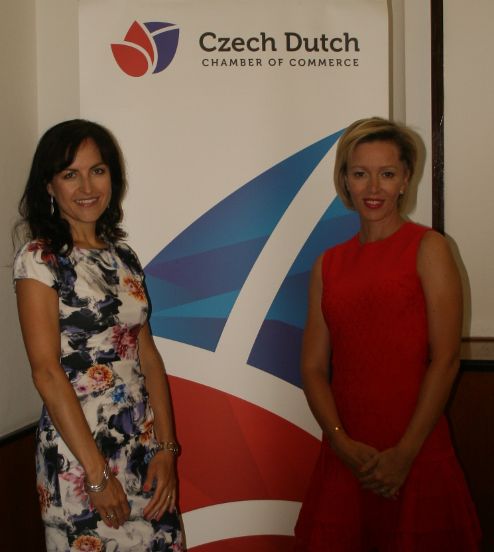 In a nutshell we can summarize our existence in three numbers: We have been active for 5 years, we are proud of having over 30 members, corporations, entrepreneurs and individuals, and during our existence we hosted over 55 various events.
In the beginning, the Chamber was a true startup and, to some extent, it still is. We commenced with a great idea, dedication and passion for what we wanted to do and to achieve. But that was it; no large team, no financial resources. But it worked out. We truly believe that what we got are the most important ingrediencies and the rest usually comes later. Our work and commitments reflect in services we strive to deliver to our members and the broader business community.
Our members recruit from different industries and are of various sizes, stretching from large corporations, through small companies, consultancy bureaus and agencies to individuals. But they all have one thing I common: they are somehow connected with the Czech and Slovak Republics, through their origin, business relations or simply an interest.
Future plans
We believe the Netherlands is a very interesting market offering many opportunities for Czech and Slovak businesses. Central European business people can learn a lot from the Dutch with entrepreneurial and commercial sprit running through their veins for centuries. Czechs and Slovaks can bring, on the other hand, technical knowledge and skills, creativity and new ideas. There are many similarities between the two markets with a number of sectors where the two countries can work very closely together creating a win-win partnership for all. "Our Chamber's intention is to be part of these developments and to contribute to many great future success stories," added Katerina Veliskova, Executive Director, CDCC.
We look forward to creating many fruitful future partnerships, supporting developing businesses and
while working hard, combining it with some fun for our members and friends too.