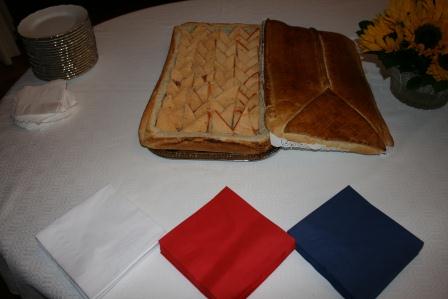 On 4 November 2014 in The Hague, the Czech Dutch Chamber of Commerce (CDCC) with support of the Embassy of the Czech Republic in the Netherlands organized a reception on the occasion of the creation of the Independent Czechoslovak State (28 October 1918).
The reception was attended by representatives of the Czech business community in the Netherlands, Dutch and other companies with business interestests in the Czech Republic and representatives of international non-governmental organizations (NGO).
Shortly after the official opening, H.E. Mr. Jaroslav Horák, Embassador of the Czech Republic in the Netherlands delivered a speech reminding the importance of the 28th October 1918 in the history of Czechoslovakia and later the Czech Republic. It was followed by an interview with Mr. Horák during which the participants had an opportunity to hear remarkable reflections, views and findings from his diplomatic missions in the Netherlands and formerly in Norway. Mr. Horák highlighted successes of Czech companies in the Netherlands as besides the Škoda car distributor, there are a number of other companies active in the country, including: Unicorn, a renowned provider of information systems and solutions, who opened its Netherlands subsidiary earlier this year in Arnhem; Boltjes Group, a successful producer in the field of of tubes and profiles; or Linet Group, a major world manufacturer of hospital and nursing beds. Mr Horák also noted that Czech products and services usually offer a superior quality for very competitive prices which should make them very attractive for the Dutch companies and entrepreneurs.
The reception was accompanied with wine tasting of fine Moravian wines brought to the Dutch market by the company Moravino.
For additional information:
Kateřina Velíšková
Czech Dutch Chamber of Commerce
+31 6 28 27 20 13
About the Czech Dutch Chamber of Commerce (CDCC)
The goal of the CDCC is to support business development and growth of Czech companies and entrepreneurs in the Netherlands and Dutch entities in the Czech Republic. Its main services include hosting of regular business and social meetings and specialized seminars, support in search for new business partners, information and intermediary services. The CDCC was founded as a non-profit organization in The Hague in June 2014.