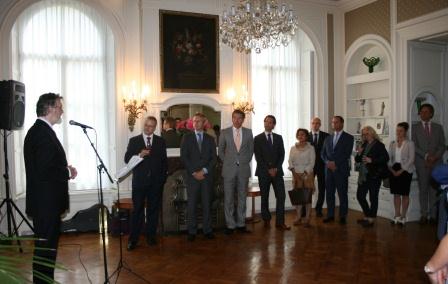 On 5 June 2014, the Czech Dutch Chamber of Commerce (CDCC) was introduced during its official opening ceremony in The Hague, the Netherlands. The goal of the CDCC is to support business development and growth of Czech companies and entrepreneurs in the Netherlands and Dutch entities in the Czech Republic.
His Excellency Jaroslav Horák, Ambassador of the Czech Republic to the Kingdom of the Netherlands joined the official opening ceremony together with around 70 representatives of companies, public administration, cultural institutions and entrepreneurs active in the Netherlands.
"Our vision is to become a key partner that helps create and further develop business relationship between Czech and Dutch companies and contribute to a positive image of the Czech Republic in the Netherlands," said Vladimíra Chýská, Chairperson of the Czech Dutch Chamber of Commerce. "There has not been such an organisation directly focused on creating a platform to support Czech companies in the Netherlands. We are strongly committed to fulfil our vision, create benefits for our members as well as support cooperation between the two countries."
H.E. Jaroslav Horák, Ambassador of the Czech Republic commenced the opening ceremony, followed by a short introduction of the CDCC, including services and benefits that the Chamber offers to its members. Subsequently, first CDCC members shared their experience with the audience. The evening continued with a short music performance and exclusive Czech wine tasting.
The main services offered by the Czech Dutch Chamber of Commerce are to:
Host regular business and social meetings for the purpose of sharing information and developing business relationship
Host business, investment, legal and other specialized seminars
Help its members with search for new business partners
Provide market research services and information about Czech, Dutch and other international companies
Facilitate access to information related to import, export, consumer demand, manufacturing, transportation, customs, taxes and legal regulations
Provide marketing support, sustainability related support and similar.
Until the end of 2014 the CDCC plans to organise numerous activities for its members, including a legal seminar, a reception on the occasion of the national holiday of the Czech Republic, a wine tasting and networking event, and a number of other interesting events.
 For more information:
Katerina Veliskova
Czech Dutch Chamber of Commerce
kveliskova@cdcc.nl / +31 6 28 27 20 13