On the 24th of October, 2023, the Czech-Dutch Chamber of Commerce (CDCC) hosted a remarkable reception at the Slovak Embassy in The Hague. This distinguished event brought together members of the CDCC as well as figures from the Czech and Slovak business communities in the Netherlands.
The evening commenced with a warm welcome by Slovak Ambassador Juraj Macháč who set the stage for an evening of fruitful discussions. The reception was graced by two distinguished speakers who shared their insights on a significant event – the state visit of Dutch King Willem Alexander and Queen Maxima to the Slovak Republic, coupled with an accompanying economic mission, which took place in March 2023.
Marieke van der Wilk, Senior Policy Advisor for Hydrogen & Northern and Central Europe at the Ministry of Foreign Affairs, captivated the audience with her reflections on the royal visit and the business mission. It was clear that both Slovakia and the Netherlands attach immense importance to the transition to a circular economy, the battle against climate change, and the preservation of biodiversity. These shared values provide a strong foundation for cooperation between the two nations.
Gerard de Boer, representing Blue Cycle, also addressed the gathering. Blue Cycle is dedicated to advancing the circular economy by promoting innovative and sustainable solutions. The company participated in the business mission to Slovakia and works on potential partnerships in the country. De Boer's speech highlighted the potential for collaboration in this critical domain.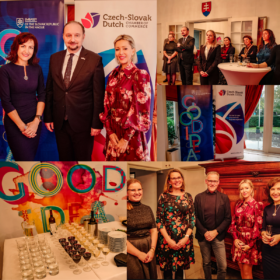 The reception allowed attendees to gain deeper insights into how both Slovakia and the Netherlands can strengthen their mutual efforts in the transition to a circular economy and combatting climate change. The commitment of these nations to such a noble cause is a testament to their dedication to a sustainable future.
Following the insightful presentations, the reception unfolded, providing an excellent networking opportunity for all participants. The evening was a harmonious blend of insightful discourse and the exchange of ideas.
Katerina Veliskova, Executive Director of CDCC, expressed her thoughts on the event: "We are delighted to have had the opportunity to host such an exceptional gathering. The synergy between the Netherlands and Slovakia in the area of sustainability and circularity is very inspiring and we hope to see many partnerships between companies from the two countries."
Related read on our website: Dutch Royal State Visit to Slovakia
For more information: info@cdcc.nl