On 31 January 2018, the Czech Dutch Chamber of Commerce (CDCC) with the support of the Embassy of the Czech Republic organized the New Year's Drink at the Czech Ambassador's Residence in The Hague, the Netherlands.
The event was officially opened by a welcome speech of H.E. Jana Reinišová, the Czech Ambassador followed by a presentation of Vladimíra van Aarle, Chairwoman of the CDCC. Van Aarle highlighted several successes of the past year including a number of events organised by the CDCC and introduced the plans of the Chamber for 2018. She mentioned that the CDCC started a closer cooperation with the Hungarian Business Network as well as with the Slovak Embassy in the Netherlands. Van Aarle also welcomed several new members who recently joined the Chamber. Kateřina Velíšková, Board member of the CDCC then led an interview with the founder of Hedvea Medical, Marcela Němcová, a new member of the CDCC, introducing the company and services it offers to its Dutch clients. The interview was followed by a piano performance given by Šárka Kousalová, Project manager at CDCC.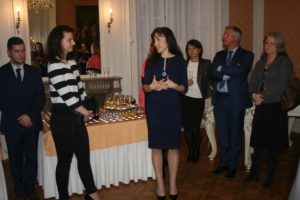 During the evening, the guests had also an opportunity to taste exclusive Czech whiskey from Česká Whisky and learn about an almost forgotten history of whiskey production in the Czech lands.
More than forty guests enjoyed the event.
For more information: info@cdcc.nl