On the occasion of the 100th anniversary of Czechoslovakia, the Embassies of the Czech and Slovak Republics in The Hague hosted a seminar Establishment of Czechoslovakia: Heritage and Consequences. It took place on 20 June 2018 in The Hague.
The seminar was opened by the Ambassadors of the two countries followed by presentations of guess speakers and experts on the Czech and Slovak history: Mr. prof. PhDr. Ivan Šedivý CSc. from Faculty of Arts at Charles University, Prague, Mr. Adam Hudek, PhD. Institute of History at Slovak Academy of Science, Bratislava and Mr. dhr. dr. Carlos Reijnen, East European Studies, University of Amsterdam. The speakers discussed the history of the two nations, impact of external factors on formation of a new state in the heart of Europe in 1818, how the state developed until its dissolution in 1993 and and then as two separate neighbouring countries. After insightful presentations the speakers joined a pannel discussion and responded numerous questions from the audience.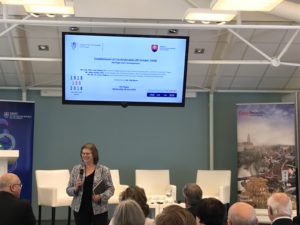 The Czechoslovakia was established on 28 October 1918. On 1 January 1993 the federal state of Czechoslovakia was split into two countries the Czech Republic and Slovakia.
For more information: info@cdcc.nl