The Hague 14 May 2018 – During a wine tasking event organized by CzechTrade, the Czech trade promotion agency, wine makes from several Central European countries presented their wines to Dutch wine distributors, sommeliers and other wine connoisseurs.
The event was supported by the Embassies of Bulgaria, Croatia, the Czech Republic, Hungary, Moldova, Romania and Serbia in the Netherlands. Ambassdors as well as other representatives of these countries joined the wite tasting event.
The Czech Republic was represented by wine producers Víno Hruška, Winery Syfany, Lahofer Winery and Bábíček Vacenovský Winery. They all come from South Moravia, the south east part of the country where most of Czech wines are grown and produced.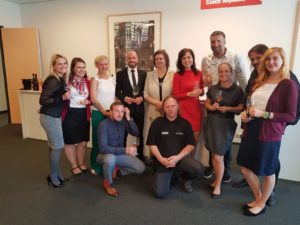 "I was impressed by the excellent quality and delicate taste of wines presented at the event. The Central European wines and its producers are typically not very well known in the Dutch market. This event created a very favorable platform for introducing these wines to experts and hopefully it will help introduce some of these excellent wines to a Dutch consumer eager to enjoy premium quality from new wine territories," commented Katerina Veliskova, Board member, Czech Dutch Chamber of Commerce.
For more information: info@cdcc.nl